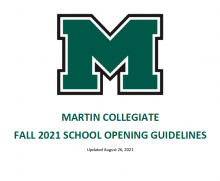 To view Martin Collegiate's Fall 2021 School Opening Guidelines please click HERE.
To view Regina Public Schools Safe Return to School Guidelines for Fall 2021 click HERE.
UPDATE September 3, 2021: Effective Tuesday, September 7, 2021, Regina Public Schools will be requiring mask use in all its elementary schools, high schools and division buildings.