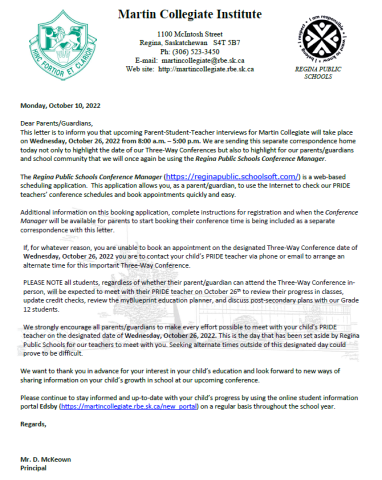 Martin Collegiate will be hosting their Parent-Student-Teacher interviews on Wednesday, October 26, 2022 from 8:00 a.m. - 5:00 p.m.
For the upcoming Three-Way Conferences on October 26th, Martin Collegiate will once again be using a web-based scheduling application called the Regina Public Schools Conference Manager. This application allows you, as a parent/guardian, to use the internet to check our PRIDE teachers' conference schedules and book appointments quickly and easily.
Although parents can register and set-up an account at any time, the booking of conferences can only begin at or after 9:00 a.m. on Friday, October 14th, and will remain open until Friday, October 21st at 4:00 p.m. The booking application will then be closed for any further appointments and appointments will have to be booked manually by teachers.
It is very important that parents/guardians understand the Regina Public Schools Conference Manager operates on a FIRST-COME, FIRST-SERVED basis. The sooner you book the better chance you have of securing a time you want.
Information and steps to create a NEW parent account and booking conferences can be found HERE.
 To view the parent letter sent home click HERE.
PLEASE NOTE all students, regardless of whether their parent/guardian can attend the Three-Way Conference in-person, will be expected to meet with their child's PRIDE teacher on October 26th to review their progress in classes, update credit checks, review the myBlueprint education planner, and discuss post-secondary plans with our Grade 12 students.