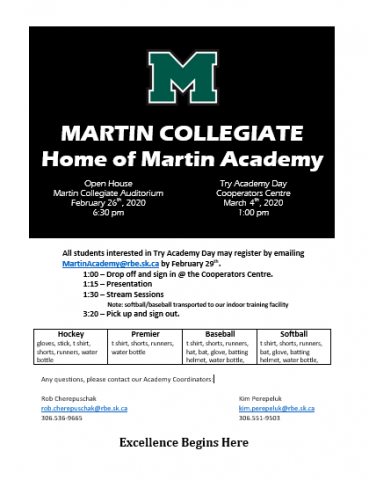 Martin Collegiate is proud to host Try Academy Day on Wednesday, March 4, 2020.
All students interested in Try Academy Day may register by emailing MartinAcademy@rbe.sk.ca by February 29, 2020 and attaching the Activity Consent and Waiver Form found below.*
The schedule for the afternoon is as follows:
      1:00 p.m. - Drop-off and sign-in at the Cooperators Centre
      1:15 p.m. - Presentation
      1:30 p.m. - Stream Sessions (*NOTE: Softball/Baseball will be transported to our indoor training facility)
      3:20 p.m. - Pick-up and sign-out
To view a full size image of the poster click HERE.
To view and download the Activity Consent and Waiver Form* click HERE.